Sunday, October 13th 2019, 9:00 AM (CDT)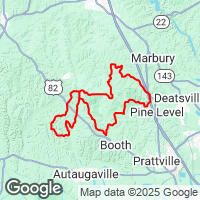 The River Region Riders Cycling Association welcomes all gravel riders to the Trash Panda Red Dirt Ramble on Sunday, October 13, 2019. As cyclists transition from road to gravel for the fall season, this premier event offers an early solid test of gravel riding abilities that won't disappoint the experienced or novice rider. With three distances to choose from (27, 48, 68) and aptly supported with rest stops and roving SAGs, riders will be challenged by varied unpaved terrain and plenty of climbs and descents located in Autauga County, Alabama.
Last year's inaugural ride was a huge success with over 70 grinders participating. The feedback was very positive and we have taken great strides to improve the experience (i.e., bathroom facilities at start, etc.).
Net proceeds from the ride will benefit the Prattville Autuaga Humane Shelter.
27 mile, 48 mile and 68 mile routes available, the 68 mile route with over 3900 feet of climbing is shown.
Weather Conditions
Weather forecast for the Trash Panda Red Dirt Ramble:
Temperature: 59 to 68 ˚F, feels like 60.8 to 69.8 ˚F
Wind: 2.5 to 5 mph winds with gust up to 8.7 mph
Precipitation: 8% probability of very light precipitation
Forecasts change. Check back to get an updated weather forecast leading up to the event.
Wind Direction
Wind direction is shown with arrows
on the map. Arrows are shown larger to indicate stronger winds
Use of this website is subject to the
Terms of Use
. Be sure to check route date, start time, route and other details with the event organizers.