Sunday, April 14th 2019, 9:00 AM (PDT)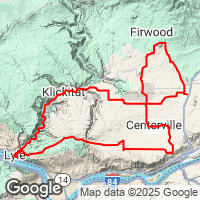 "Non-stop epic views and rolling terrain" is the claim, and I agree wholeheartedly. This ride takes place in one of my favourite regions, near the Cascade Mountains and through central Washington state.
Two routes are available, the 90 mile route with over 6200 ft of vertical gain is shown. Some gravel involved, approximately 25 miles, so be prepared! This one promises to be quite the adventure, I recommend reading the write-up on the event site to truly appreciate the difficulty and varied challenges involved.
Weather Conditions
Weather forecast for the Gran Fondo Goldendale:
Temperature: 4 to 11 ˚C
Wind: 13 to 21 km/h winds with gust up to 34 km/h
Precipitation: 8% probability of very light precipitation
Forecasts change. Check back to get an updated weather forecast leading up to the event.
Wind Direction
Wind direction is shown with arrows
on the map. Arrows are shown larger to indicate stronger winds
Use of this website is subject to the
Terms of Use
. Be sure to check route date, start time, route and other details with the event organizers.