Sunday, May 12th 2019, 6:45 AM (BST)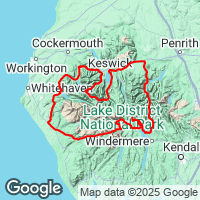 One of the most popular and difficult UK events, this charity ride is so challenging due to the 11800 feet of elevation gain and 114 mile route. Riders usually finish after between 6 to 11 hours. The route takes you around the Lake District, with the route extended this year to include going up and over Blea Tarn.
Weather Conditions
Weather forecast for the Fred Whitton Challenge:
Temperature: 4 to 15 ˚C
Wind: 0 to 10 km/h winds
Precipitation: 0% probability of precipitation
Forecasts change. Check back to get an updated weather forecast leading up to the event.
Wind Direction
Wind direction is shown with arrows
on the map. Arrows are shown larger to indicate stronger winds
Use of this website is subject to the
Terms of Use
. Be sure to check route date, start time, route and other details with the event organizers.