Sunday, April 7th 2019, 7:00 AM (PDT)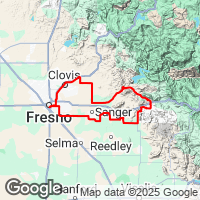 Close a freeway with 2000 other riders in this century ride leaving from Fresno, California. For the adventurous, pair with a half marathon the following day. The route leads out of the city into the foothills of Piedra and Squaw Valley. With over 3000ft (930m) of elevation gain, the route features a challenging climb at roughly the half-way point after which that hard-earned elevation gain pays off in the gentle loss of altitude all the way to the finish.
Weather Conditions
Weather forecast for the California Classic Century Ride:
Temperature: 11 to 22 ˚C
Wind: 1 to 11 km/h winds with gust up to 14 km/h
Precipitation: 1% probability of precipitation
Forecasts change. Check back to get an updated weather forecast leading up to the event.
Wind Direction
Wind direction is shown with arrows
on the map. Arrows are shown larger to indicate stronger winds
Use of this website is subject to the
Terms of Use
. Be sure to check route date, start time, route and other details with the event organizers.