Sunday, May 5th 2019, 6:30 AM (BST)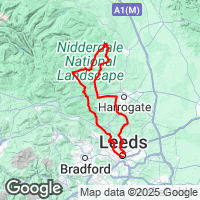 Ride the route before the pros and enjoy the crowds in this sportive starting in Leeds and heading into the rural roads of North Yorkshire.
50km, 79km and 123km route options available, the 123km route is shown.
Weather Conditions
Weather forecast for the Tour de Yorkshire Ride:
Temperature: 2 to 10 ˚C, feels like -1 to 8 ˚C
Wind: 9 to 12 km/h winds with gust up to 21 km/h
Precipitation: 0% probability of precipitation
Forecasts change. Check back to get an updated weather forecast leading up to the event.
Wind Direction
Wind direction is shown with arrows
on the map. Arrows are shown larger to indicate stronger winds
Use of this website is subject to the
Terms of Use
. Be sure to check route date, start time, route and other details with the event organizers.