Saturday, March 16th 2019, 8:00 AM (PDT)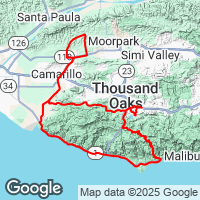 Enjoy a high-end experience, rolling through farmlands and coastal roads with an epic climb into the Santa Monica mountains. Gourmet rest stops, and three timed sections make this a great event.
Two route options are available, "Medio" 58 miles and "Classico" 87 miles with a total elevation gain of 6100 feet. The 87 mile route is shown.
Weather Conditions
Weather forecast for the Malibu GRANFONDO:
Temperature: 14 to 24 ˚C
Wind: 6 to 16 km/h winds with gust up to 37 km/h
Precipitation: 0% probability of precipitation
Forecasts change. Check back to get an updated weather forecast leading up to the event.
Wind Direction
Wind direction is shown with arrows
on the map. Arrows are shown larger to indicate stronger winds
Use of this website is subject to the
Terms of Use
. Be sure to check route date, start time, route and other details with the event organizers.