Sunday, July 16th 2023, 8:00 AM (EDT)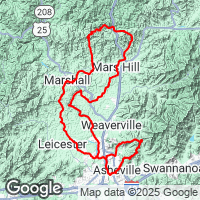 Departing Asheville's vibrant downtown, the routes for Gran Fondo Asheville, presented by Applewood Manor, hit the best serpentine roads, climbs, and descents in the Asheville area. Come see why this region is a road cycling mecca in the United States.
29, 61 and 98 mile route options are available, the 98 mile route with 8800 feet of climbing is shown.
Weather Conditions
Weather forecast for the Gran Fondo Asheville:
Temperature: 66.2 to 80.6 ˚F, feels like 68 to 82.4 ˚F
Wind: 5 to 9.9 mph winds with gust up to 23.6 mph
Precipitation: 0% probability of precipitation
Forecasts change. Check back to get an updated weather forecast leading up to the event.
Wind Direction
Wind direction is shown with arrows
on the map. Arrows are shown larger to indicate stronger winds
Use of this website is subject to the
Terms of Use
. Be sure to check route date, start time, route and other details with the event organizers.