Sunday, June 6th 2021, 8:00 AM (EDT)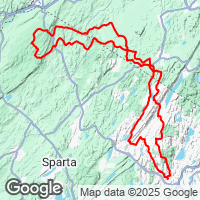 The route showcases the Highlands area which is a 1,343 square mile region of Northern New Jersey which is noted for its scenic landscape and environmental importance. The route goes over "High Point" the highest point in New Jersey, through High Point State Park where you'll enjoy the closed park road for a time segment.
While taking advantage of northern New Jersey's beautiful back roads, the Highlands Gran Fondo is not just a one-time event. All GFNS race/rides are part of a North American series, offering winners in every category points towards the national series standings.
The Highlands Gran Fondo will start and finish at High Point Brewing Company, 22 Park Place, Butler, NJ. Post-race food will be provided along with beer from High Point Brewing Company.
100 mile, 60 mile and 35 mile routes available, the 100 mile route is shown.
Weather Conditions
Weather forecast for the Highlands Gran Fondo:
Temperature: 75.2 to 91.4 ˚F
Wind: 3.1 to 8.7 mph winds with gust up to 15.5 mph
Precipitation: 1% probability of precipitation
Forecasts change. Check back to get an updated weather forecast leading up to the event.
Wind Direction
Wind direction is shown with arrows
on the map. Arrows are shown larger to indicate stronger winds
Use of this website is subject to the
Terms of Use
. Be sure to check route date, start time, route and other details with the event organizers.