Sunday, November 8th 2020, 11:00 AM (CST)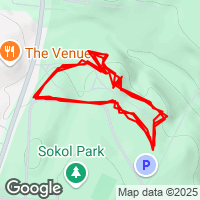 It's back! The GobbleCross cyclocross race, with starts ranging from 10am to 12:15pm. Presented by the Madsen Machine Company.
Lap time range from 6-8 minutes, with race duration varying by category. The timing shown corresponds to Men and Women Cat 1/2, 3. Check race details and get the Epic Ride Weather app for your personalized forecast for the event.
Weather Conditions
Weather forecast for the 5th Annual GobbleCross pb Druid City Bicycle Club:
Temperature: 62.6 to 66.2 ˚F
Wind: 7.5 to 8.7 mph winds
Precipitation: 8% probability of light precipitation
Forecasts change. Check back to get an updated weather forecast leading up to the event.
Wind Direction
Wind direction is shown with arrows
on the map. Arrows are shown larger to indicate stronger winds
Use of this website is subject to the
Terms of Use
. Be sure to check route date, start time, route and other details with the event organizers.