Saturday, August 24th 2019, 7:30 AM (PDT)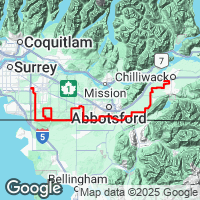 The Ride to Conquer Cancer delivers an incredible energy due to the common purpose of the riders. An awesome purpose, and a fantastic day on the bike. This ride goes through the beautiful country side near Vancouver, BC, with quiet rural roads and bordered by mountains.
The route shown is for day 1 of the event. A challenge route option is also available.
Weather Conditions
Weather forecast for the Ride to Conquer Cancer Vancouver:
Temperature: 14 to 19 ˚C
Wind: 5 to 9 km/h winds with gust up to 20 km/h
Precipitation: 5% probability of very light precipitation
Forecasts change. Check back to get an updated weather forecast leading up to the event.
Wind Direction
Wind direction is shown with arrows
on the map. Arrows are shown larger to indicate stronger winds
Use of this website is subject to the
Terms of Use
. Be sure to check route date, start time, route and other details with the event organizers.