Thursday, July 29th 2021, 6:00 AM (CDT)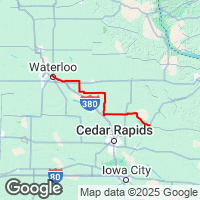 RAGBRAI, Register's Annual Great Bicycle Ride Across Iowa, is an epic 7 day cycling adventure.
The longest, largest and oldest bicycle touring event in the world it is one-third bicycling, two-thirds fun!
Days 1-7: Day 1 - Le Mars to Sac City , Day 2 - Sac City to Fort Dodge , Day 3 - Fort Dodge to Iowa Falls , Day 4 - Iowa Falls to Waterloo , Day 5 - Waterloo to Anamosa , Day 6 - Anamosa to DeWitt , Day 7 - DeWitt to Clinton.
Weather Conditions
Weather forecast for the RAGBRAI Day 5 - Waterloo to Anamosa:
Temperature: 75.2 to 86 ˚F, feels like 77 to 95 ˚F
Wind: 8.7 to 13.1 mph winds with gust up to 22.4 mph
Precipitation: 4% probability of very light precipitation
Forecasts change. Check back to get an updated weather forecast leading up to the event.
Wind Direction
Wind direction is shown with arrows
on the map. Arrows are shown larger to indicate stronger winds
Use of this website is subject to the
Terms of Use
. Be sure to check route date, start time, route and other details with the event organizers.