Sunday, July 14th 2019, 7:00 AM (PDT)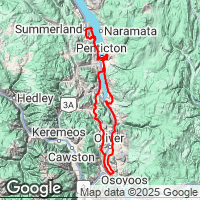 Ride hard. Smile often. That's the motto of the Prospera Granfondo Axel Merckx Okanagan. Starting in beautiful Penticton, BC, and travelling lake-side through Summerland and Oliver, this is one of the most popular gran fondos due to the great weather and scenery of the Okanagan.
The route shown is the 160km option. There are also routes of 55km, 92km and 126km.
Weather Conditions
Weather forecast for the Prospera Granfondo Axel Merckx Okanagan:
Temperature: 19 to 27 ˚C
Wind: 5 to 11 km/h winds with gust up to 16 km/h
Precipitation: 2% probability of very light precipitation
Forecasts change. Check back to get an updated weather forecast leading up to the event.
Wind Direction
Wind direction is shown with arrows
on the map. Arrows are shown larger to indicate stronger winds
Use of this website is subject to the
Terms of Use
. Be sure to check route date, start time, route and other details with the event organizers.