Sunday, September 19th 2021, 8:00 AM (EDT)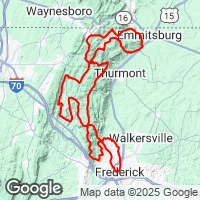 Gran Fondo Maryland starts in the heart historic Frederick, Maryland and offers some of the longest timed sections and most challenging terrain you'll find in any Gran Fondo!
Like all GFNS events, Gran Fondo Maryland offers distances to suit all abilities; the Gran Fondo is 98 miles with nearly 10,000 feet of elevation gain, the Medio 63 miles with 6,000 feet and the Piccolo 29 miles with 2,500 feet of climbing.
The Gran Fondo contains 4 timed climbs of Hamburg Hill, Harp Hill, Friend Creek and Gambrill Park, as well as 4 feed-stations. The Medio contains the 2 timed climbs of Hamburg Hill and Gambrill Park and 3 feed-stations. The Piccolo Fondo contains the timed climb of Hamburg Hill and one feed-station afterwards.
The well designed, quiet and breathtakingly beautiful routes take riders on a scenic loop north through several different parks, forests and protected watersheds, touching the Pennsylvania state line before heading south into the Catoctin Mountain National Park, Frederick Watershed and Gambrill State Park.
Weather Conditions
Weather forecast for the Gran Fondo Maryland:
Temperature: 64.4 to 78.8 ˚F
Wind: 5.6 to 6.8 mph winds with gust up to 16.2 mph
Precipitation: 0% probability of precipitation
Forecasts change. Check back to get an updated weather forecast leading up to the event.
Wind Direction
Wind direction is shown with arrows
on the map. Arrows are shown larger to indicate stronger winds
Use of this website is subject to the
Terms of Use
. Be sure to check route date, start time, route and other details with the event organizers.