Sunday, July 21st 2019, 8:00 AM (EDT)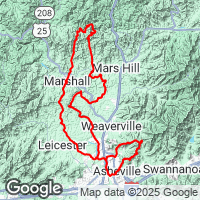 Your ride begins in Downtown Asheville at Wicked Weed Brewing's Funkatorium and quickly moves along well-marked winding roads out into pastoral countryside and up to mountain ridge vistas. At the end of the ride, as you descend from the Blue Ridge Parkway into the heart of town, you will be afforded a spectacular cityscape view and greeted by fellow riders and families back at Wicked Weed Brewing's Funkatorium; where you can enjoy the music, vendors, massage therapists, and of course – food and beer!
29, 61 and 98 mile route options are available, the 98 mile route with 8800 feet of climbing is shown.
Weather Conditions
Weather forecast for the Gran Fondo Asheville:
Temperature: 68 to 84.2 ˚F
Wind: 2.5 to 4.4 mph winds with gust up to 7.5 mph
Precipitation: 9% probability of light precipitation
Forecasts change. Check back to get an updated weather forecast leading up to the event.
Wind Direction
Wind direction is shown with arrows
on the map. Arrows are shown larger to indicate stronger winds
Use of this website is subject to the
Terms of Use
. Be sure to check route date, start time, route and other details with the event organizers.