Saturday, June 1st 2019, 6:30 AM (PDT)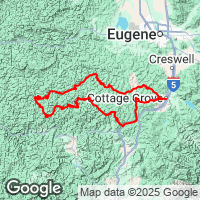 Voted top 10 Gran Fondo's in North America for its natural beauty! Completely unplugged starting 20 minutes south of Eugene Oregon in the community of Cottage Grove. Featuring mechanical support, great aid stations and 6 restaurants to choose from after. 41,71,117 and 130 miles with 2000,4000,6500 and 8300 ft of climbing. If you want more the 130-mile loop also features 3 sections of gravel for that backcountry experience.
Completely unplugged at the Oregon Gran Fondo the first Saturday in June.
Weather Conditions
Weather forecast for the Oregon Gran Fondo:
Temperature: 11 to 23 ˚C
Wind: 5 to 13 km/h winds with gust up to 20 km/h
Precipitation: 1% probability of precipitation
Forecasts change. Check back to get an updated weather forecast leading up to the event.
Wind Direction
Wind direction is shown with arrows
on the map. Arrows are shown larger to indicate stronger winds
Use of this website is subject to the
Terms of Use
. Be sure to check route date, start time, route and other details with the event organizers.