Sunday, August 29th 2021, 8:00 AM (MDT)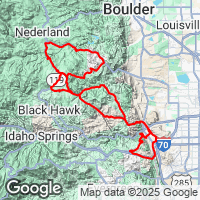 The course starts by tracing the route of the inaugural USA Pro Cycling Challenge towards continental divide. It features some of the same roads used in the Coors Classic, Colorado Classic, and featured in the movie American Flyers (Kevin Costner's classic cycling film that was set in the town of Golden).
Upon reaching the scenic Peak to Peak Highway, racers will be treated to high alpine vistas, lung busting ascents, a taste of hard pack dirt road, and a total of 10,000 feet of climbing before returning to downtown Golden where riders can replenish their exhausted bodies but full souls. This course is sure to test your climbing prowess while treating you to some of the most ruggedly beautiful landscapes anywhere.
Fear not - there's a Medio Fondo of 63 miles and a Piccolo Fondo of just over 18 miles for all levels of fitness for riders to enjoy!
The 90 mile route is shown.
Weather Conditions
Weather forecast for the Golden Gran Fondo:
Temperature: 55.4 to 73.4 ˚F
Wind: 3.1 to 8.7 mph winds with gust up to 11.2 mph
Precipitation: 1% probability of precipitation
Forecasts change. Check back to get an updated weather forecast leading up to the event.
Wind Direction
Wind direction is shown with arrows
on the map. Arrows are shown larger to indicate stronger winds
Use of this website is subject to the
Terms of Use
. Be sure to check route date, start time, route and other details with the event organizers.