Saturday, September 7th 2019, 7:00 AM (PDT)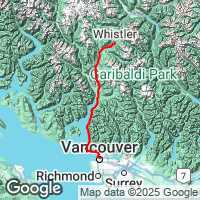 It's hard to imagine a more beautiful ride. Starting in Vancouver, Canada, passing through the forest of Stanley Park and over the Lions Gate Bridge, following the ocean through Squamish and then making the 2340m ascent up to Whistler village. This is North America's largest Gran Fondo which attracts thousands of riders ranging from first timers to cat 1 racers.
Three route options are available, Medio, Gran Fondo and Forte, the 122km Gran Fondo route is shown.
Weather Conditions
Weather forecast for the RBC Gran Fondo Whistler:
Temperature: 14 to 17 ˚C
Wind: 3 to 9 km/h winds
Precipitation:
Forecasts change. Check back to get an updated weather forecast leading up to the event.
Wind Direction
Wind direction is shown with arrows
on the map. Arrows are shown larger to indicate stronger winds
Use of this website is subject to the
Terms of Use
. Be sure to check route date, start time, route and other details with the event organizers.