Sunday, May 10th 2020, 10:00 AM (PDT)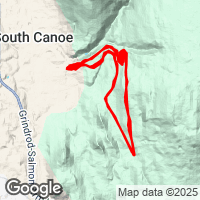 A legendary enduro, one of the longest running mountain bike races in B.C. Ride in a team of two or solo, this is a competitive event that has a solid following due to the epic adventure and fun community feel.
Weather Conditions
Weather forecast for the Salty Dog Enduro:
Temperature: 14 to 21 ˚C
Wind: 8 to 11 km/h winds with gust up to 15 km/h
Precipitation: 1% probability of precipitation
Forecasts change. Check back to get an updated weather forecast leading up to the event.
Wind Direction
Wind direction is shown with arrows
on the map. Arrows are shown larger to indicate stronger winds
Use of this website is subject to the
Terms of Use
. Be sure to check route date, start time, route and other details with the event organizers.