Saturday, June 15th 2019, 9:00 AM (EDT)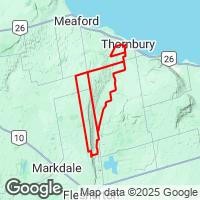 A Canadian qualifier for the World Championship, the course is redesigned to include less climbing and a later start time. This should make for a lot of fun, with multiple categories and a competitive feel this gran fondo is going to be a fast one!
72 km and 152 km routes are available, the 152km route with 1100m of climbing is shown.
Weather Conditions
Weather forecast for the Blue Mountains Gran Fondo:
Temperature: 12 to 15 ˚C
Wind: 29 to 37 km/h winds with gust up to 64 km/h
Precipitation: 69% probability of light precipitation
Forecasts change. Check back to get an updated weather forecast leading up to the event.
Wind Direction
Wind direction is shown with arrows
on the map. Arrows are shown larger to indicate stronger winds
Use of this website is subject to the
Terms of Use
. Be sure to check route date, start time, route and other details with the event organizers.