Sunday, September 29th 2019, 8:00 AM (PDT)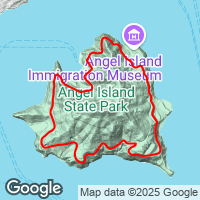 The Angel Island Time Trial is the most unique event in cycling and a spectacular way to cap off a memorable weekend. An awards ceremony and post-event feast while enjoying a cruise around San Francisco Bay await the finishers.
This is the third stage of a three stage event. See Stage 1, Stage 2 (The Jensie Gran Fondo) and Stage 3 for details of each stage.
Weather Conditions
Weather forecast for the Haute Route San Francisco - Stage 3:
Temperature: 51.8 to 55.4 ˚F
Wind: 8.1 to 9.3 mph winds with gust up to 15.5 mph
Precipitation: 2% probability of very light precipitation
Forecasts change. Check back to get an updated weather forecast leading up to the event.
Wind Direction
Wind direction is shown with arrows
on the map. Arrows are shown larger to indicate stronger winds
Use of this website is subject to the
Terms of Use
. Be sure to check route date, start time, route and other details with the event organizers.