Saturday, September 28th 2019, 8:00 AM (PDT)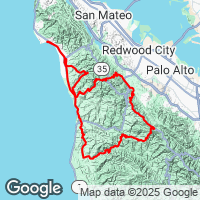 The 2019 Jensie Gran Fondo in Half Moon Bay, CA, on Saturday, September 28 will be run in conjunction with Stage 2 of the 2019 Haute Route San Francisco.
A new start venue as well as 3 new courses will definitely offer something new for previous riders.
The variety of courses, comprehensive rider services, and great finish line party make The Jensie Gran Fondo a perfect opportunity to share your day on the bike with riding partners, friends, and family.
The Jensie Gran Fondo can be ridden as a one-day event, or as part of the three-day Haute Route San Francisco. See Stage 1, Stage 2 (The Jensie Gran Fondo) and Stage 3 for details of each stage.
35 mile, 68 mile and 83 mile routes are available, the 83 mile route is shown.
Weather Conditions
Weather forecast for the The Jensie Gran Fondo:
Temperature: 53.6 to 64.4 ˚F
Wind: 12.4 to 24.2 mph winds with gust up to 34.2 mph
Precipitation: 2% probability of very light precipitation
Forecasts change. Check back to get an updated weather forecast leading up to the event.
Wind Direction
Wind direction is shown with arrows
on the map. Arrows are shown larger to indicate stronger winds
Use of this website is subject to the
Terms of Use
. Be sure to check route date, start time, route and other details with the event organizers.