Friday, September 27th 2019, 7:00 AM (PDT)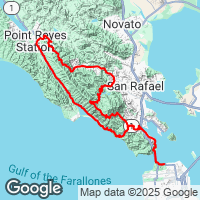 Haute Route San Francisco opens up with a casual cruise across the Golden Gate Bridge. Enjoy the relaxed portion of the day as the 3 timed segments are all located from mile 26 to mile 70 and include the climb up Mt Tamalpais.
This is the first stage of a three stage event. See Stage 1, Stage 2 (The Jensie Gran Fondo) and Stage 3 for details of each stage.
Weather Conditions
Weather forecast for the Haute Route San Francisco - Stage 1:
Temperature: 55.4 to 66.2 ˚F
Wind: 6.8 to 12.4 mph winds with gust up to 14.3 mph
Precipitation: 1% probability of precipitation
Forecasts change. Check back to get an updated weather forecast leading up to the event.
Wind Direction
Wind direction is shown with arrows
on the map. Arrows are shown larger to indicate stronger winds
Use of this website is subject to the
Terms of Use
. Be sure to check route date, start time, route and other details with the event organizers.